I got to sail to Fire Island on 15 July, breaking a two week hiatus. I didn't sail at all last weekend due to the remants of hurricane Cindy stirring things up in my area. The sailboats have finally arrived in force. The first glimpse was a small boat race that I saw as I left Browns River, my home port.

---

---

Here are a few more sailboats that I saw on my way over. If you own one of these vessels and want a high resolution photo, e-mail me at photo@joedlh.net.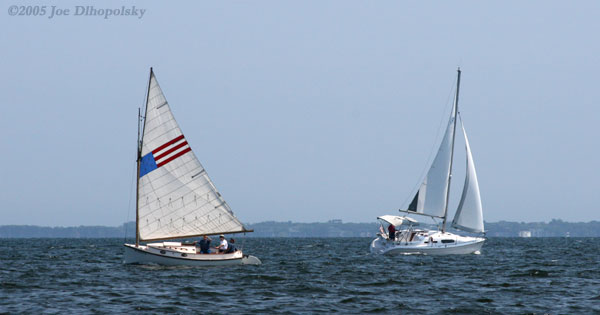 ---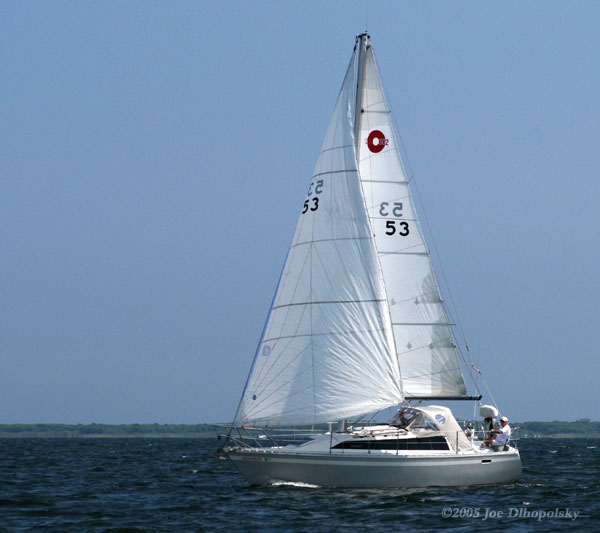 ---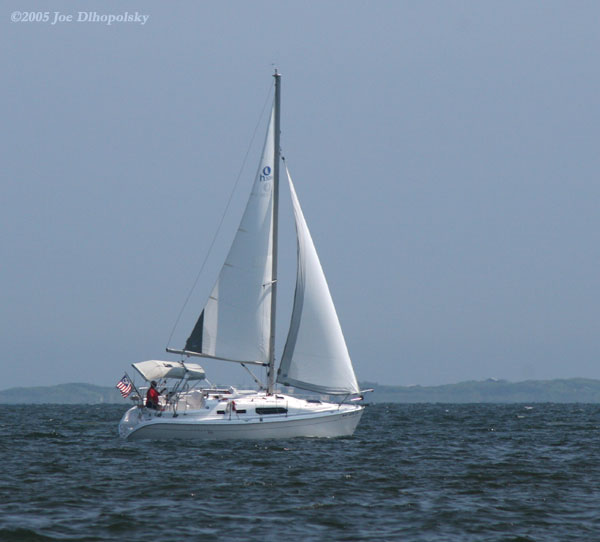 ---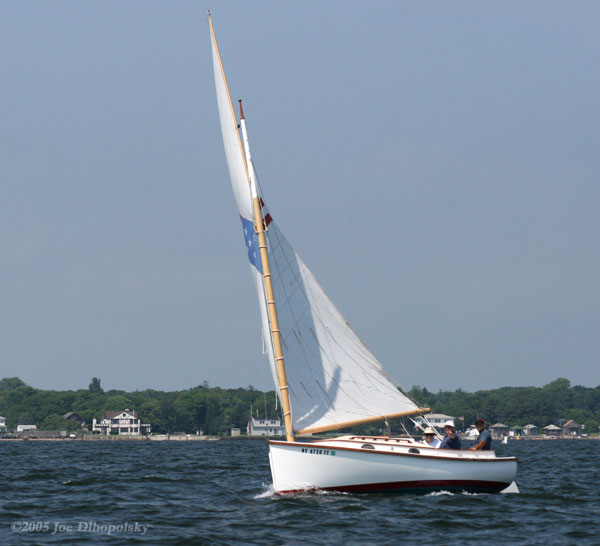 ---

...and one of the Sayville ferries.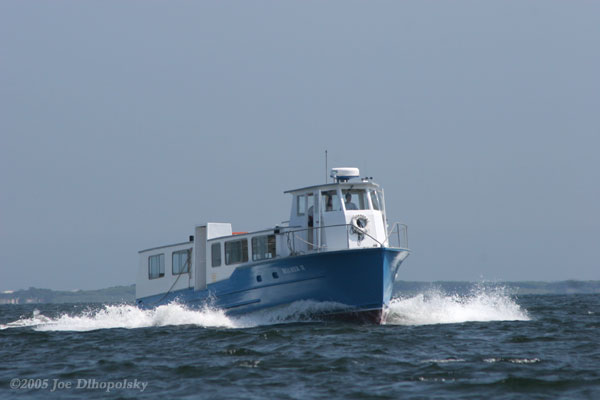 ---

For once, the wind was friendly. The sail across was a good one. The predicted isolated thunderstorms failed to materialize.
Once in port, a young mallard got close enough for a portrait while I was sitting on the dock of the bay, wasting time away.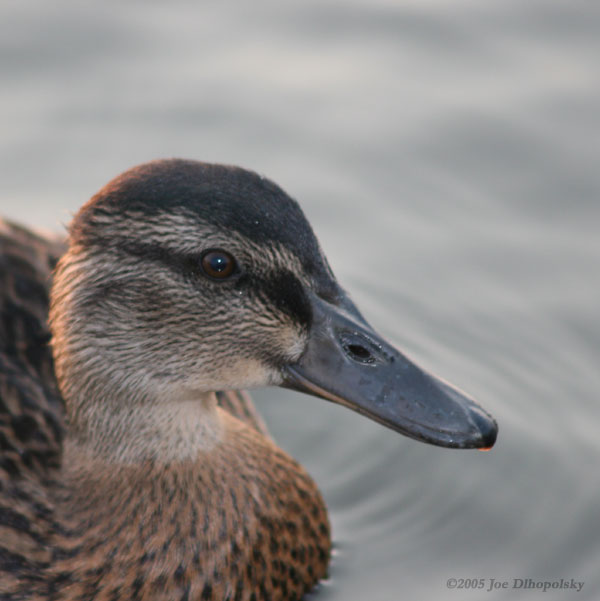 ---

and some babies scooting by just before sunset.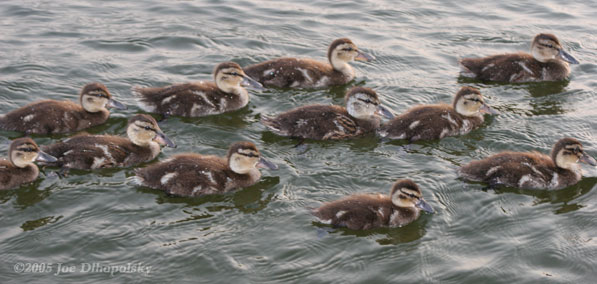 ---

Consistent with the theme of youth, I got this shot: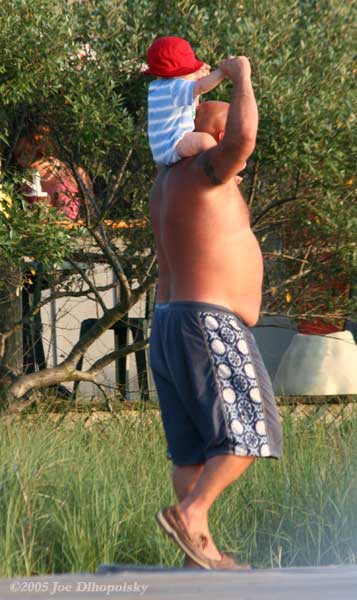 ---

I got another cute shot of two kids walking the dock with a fish net and a pail. However, I can't post it. I also wanted to get a shot of the two girls selling sea shell art near the ferry dock in Davis Park - another one I can't post. I have a rule against posting photos of identifiable people without their permission. This especially applies to children. I have scores of photos of my nieces and nephews, but I won't post them on a web page for my brothers and sisters to see. There's too much danger with the Internet. I regret that this stifles freedom of expression.

When people want their photos, I have no reservations, as long as they're good shots. Here's one of Karen (as I recall), with whom I had a chat about cameras. She's a Nikon lady, while I've used Canon for many years.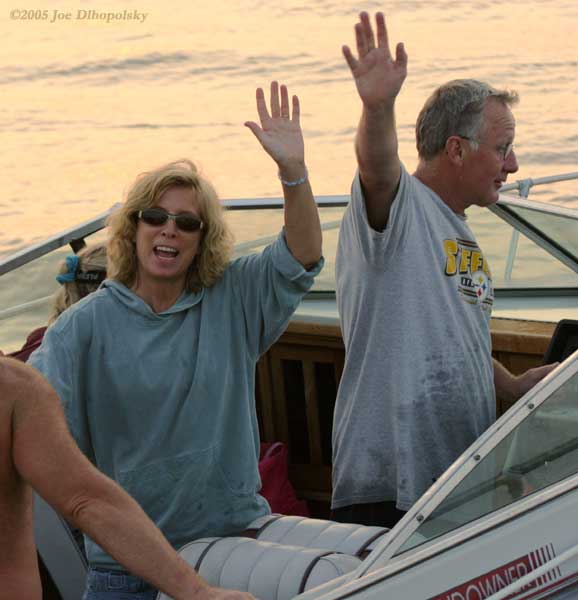 ---

My one exception to posting people pictures is for shots taken at the Fire Island Casino, where patrons seem eager to have their pictures taken. Some of my shots are on the Casino's web site. If somebody asks me not to post his or her picture. I don't. For example, I have a couple of shots of a vivacious lady, Diane, who settled near me while I ate my tuna sandwich at the Casino. She asked me not to post them.

This gives me an opportunity to express some observations about gender interactions in the bar scene. Diane and I were trading astute observations about the rocks that they keep on the bar for keeping cash from blowing away. Well, we thought they were astute. At one point, I failed in my manly duty of noting when Diane needed another drink. I have reservations about trying to get women drunk; it seems so obviously self-serving. Unfortunately, my fumbling attempts to be subtle - or even sincere - generally go unrecognized or under-appreciated. In any event, it was the signal that my moment with Diane had passed. Alas.
Before I left for the night, I observed at least two other men approach her. (As I said, she was vivacious.) One of her would-be suitors seemed to be using speed seduction techniques on her. I don't know if they worked, as I wasn't looking that closely and, as I said, I generally leave before things get interesting.
I seem to have exactly one encounter of this nature every summer, usually in August. I guess I'm done for this year.

---
Here's an artsy shot of people dancing. I must confess that I didn't plan this one. My flash didn't go off. Sometimes the unexpected leads to a pleasing result.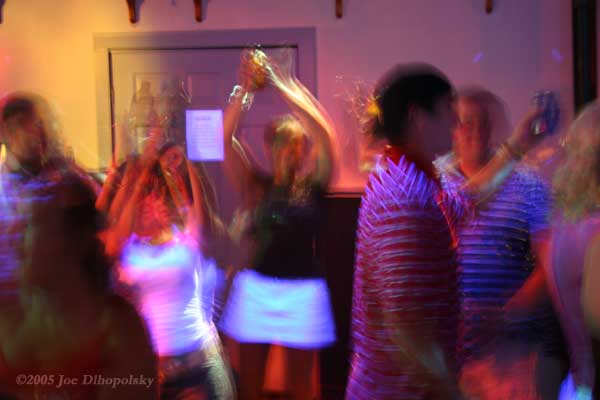 ---

The next morning, it was foggy. As I was leaving to use the public facilities, I thought that perhaps I shouldn't bring my camera. After all, in the dim light of an early morning fog, what pictures could come out well? Nevertheless, I brought it. As soon as I got off Harmony, I spotted a jelly fish swimming near the surface. If I hadn't had my camera at the ready, it would have slipped under the dock before I could get a shot.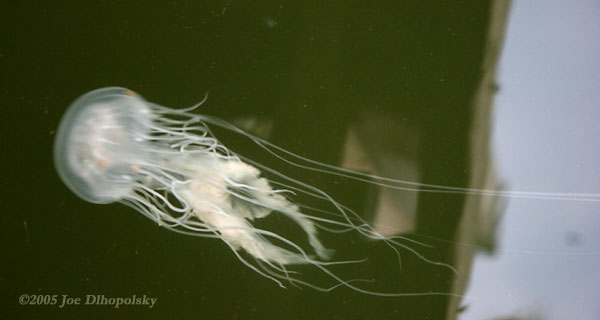 ---

Then I spotted a tern on a piling.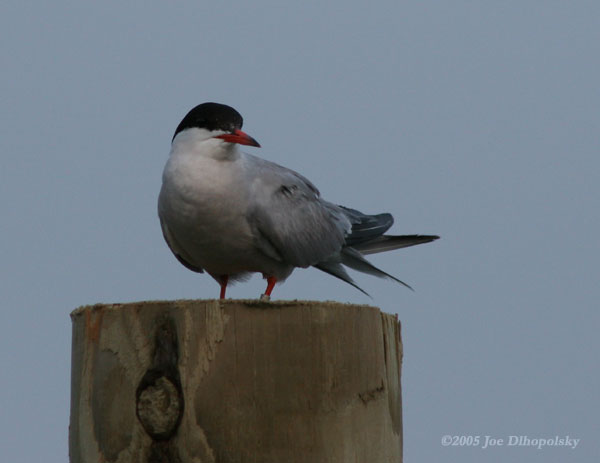 ---

Then a series of floral subjects caught my eye. I should note that one has to be observant about the flowers on Fire Island. They don't spring out at you unbidden.

---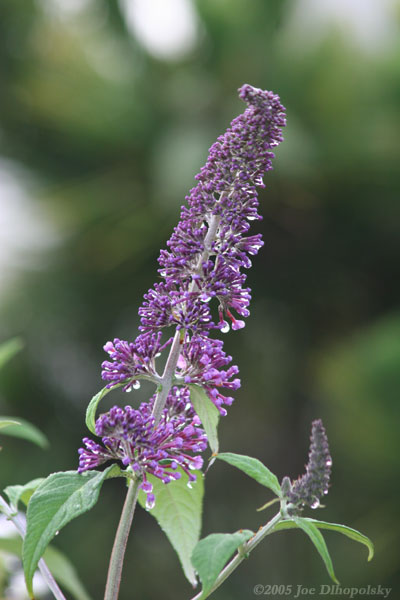 ---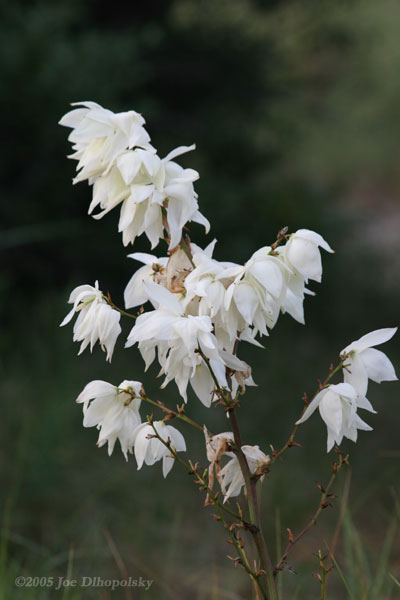 ---

Some dew-drenched pine cones.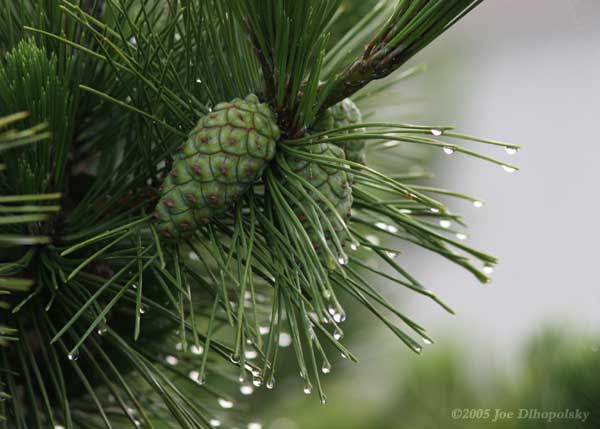 ---

And a spider web that seemed to have gotten some use overnight.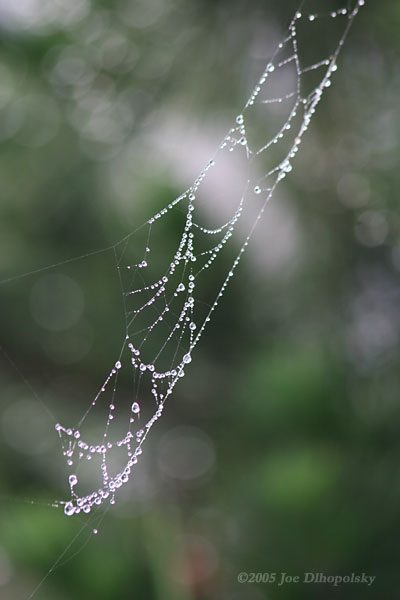 ---

Walking back to Harmony, I shared the boardwalk with someone who does his or her best to control the mosquito population on Fire Island.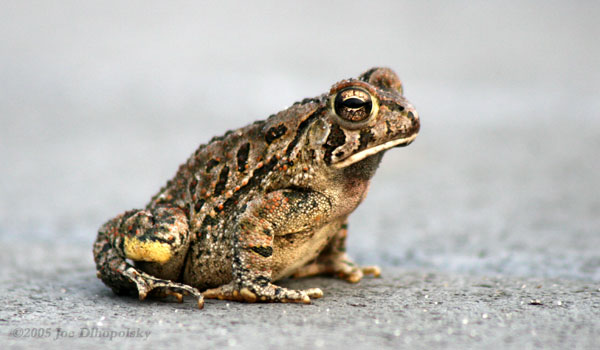 ---

As I said, it was foggy. Here's a photo of my sailboat, Harmony, just before we sailed for home.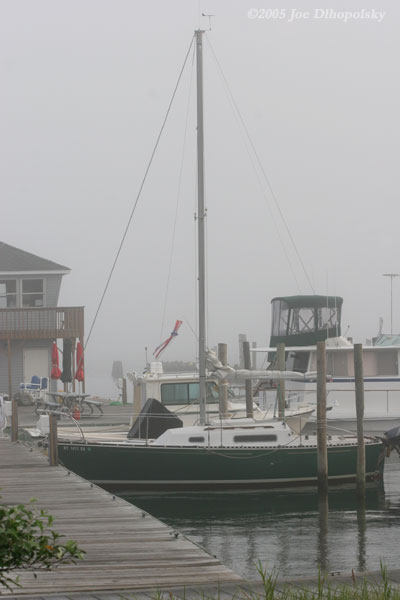 ---

Regarding the fog, I make it a habit of using the buoys as way points, even in good weather. I also have a backup GPS on board. So fog is not a problem. Thunder storms, on the other hand....
In any event, conditions heading back were not good for photography. I did get a shot of a gull taking off: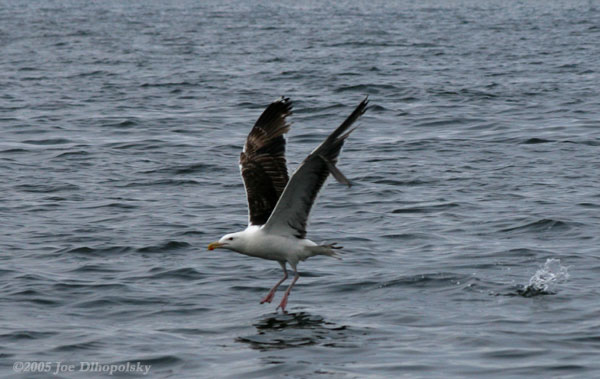 ---

Some baymen momentarily lit by the morning sun: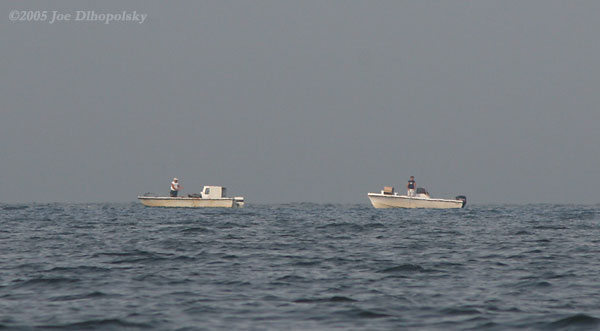 And a cormorant drying his or her wings.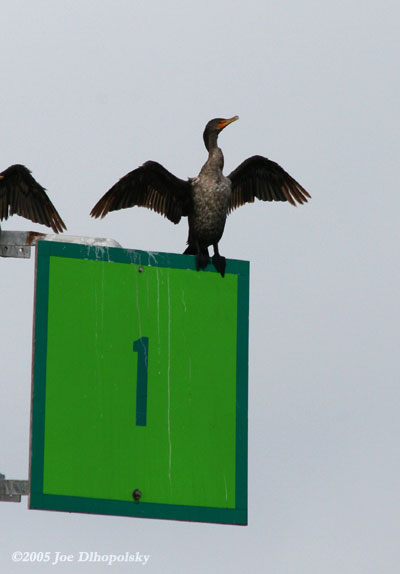 ---

So, that was my Fire Island adventure for the third weekend of July.